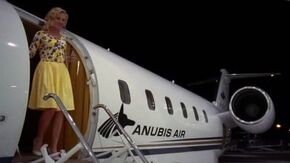 Anubis Airlines is an airline that was established to fly vampires safely both night and day. In "The Southern Vampire Mysteries", Anubis Airlines planes are designed and outfitted for sleeping vampires, who are transported in their coffins in large bays that line the walls. Some planes have a few rows of seats for occasional human passengers and provide flight attendants to check on their comfort.
After several "incidents" on board commercial flights, most vampires are willing to pay extra for the additional security Anubis offers, which often includes safe transportation of the coffin to its final destination once on the ground. However, although security is tight, it is not infallible, as Sookie Stackhouse discovers when she is accosted while waiting for Bill Compton's coffin is stolen in Mississippi. 
Sookie Stackhouse Novels appearances
"Dead Until Dark"
Living Dead in Dallas
"Club Dead"
"Dead to the World"
"Dead as a Doornail"
"Definitely Dead"
All Together Dead
"From Dead to Worse"
"Dead and Gone"
"Dead in the Family"
"Dead Reckoning"
"Deadlocked"
"Dead Ever After"
Community content is available under
CC-BY-SA
unless otherwise noted.