Charles Clausen 
was
Debbie Pelt
's were-owl ex-fiance.
Club Dead
Edit
In Club Dead, Charles gets engaged to Debbie during one of her breakups with Alcide Herveaux, but Debbie can't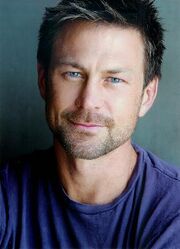 get over her former boyfriend so the engagement is called off.
Physical Appearances
Edit
Charles is described as a square man, around 28 yrs old. Has round eyes, a flat nose, and the softest looking hair ever seen that it appeared to be baby fine and so light of blond that looked nearly white.
HBO portrayal
Edit
In HBO's True Blood, Charles is played by Grant Bowler and was changed to a werewolf named Cooter.
Appearances
Edit
Sookie Stackhouse Novels appearances
"Dead Until Dark"
"Living Dead in Dallas"
Club Dead
"Dead to the World"
"Dead as a Doornail"
"Definitely Dead"
"All Together Dead"
"From Dead to Worse"
"Dead and Gone"
"Dead in the Family"
"Dead Reckoning"
"Deadlocked"
"Dead Ever After"
Community content is available under
CC-BY-SA
unless otherwise noted.