Benedict Tallie


Basic Info
Book(s):
1
First Seen
Living Dead in Dallas
Last Seen
Living Dead in Dallas
Appeared in:
Mentioned in:
Dead as a Doornail
Status:
Deceased
Age:
20s - 30s
Date of Birth:
Date of Death:
c. 2005
Also Known As:
Eggs
Origin:
Bon Temps, Louisiana
Profession:
Participant in the orgies
Heavy drinker
Species:
Human
Powers and Abilities:
Basic fighting skills
Family Members:
Tara Thornton - Fiancé (former)
Portrayed By
Mehcad Brooks
Benedict "Eggs" Tallie was a human in "The Southern Vampire Mysteries". The fiancé of Tara Thornton, Eggs is a native of Bon Temps, Louisiana.
Living Dead in Dallas
Edit
In Living Dead in Dallas, he shows an unhealthy interest in Eric when Sookie and the vampire show up at the orgy by the lake. Despite his drunken lust, he survives Callisto's madness.
Dead as a Doornail
Edit
In Dead as a Doornail, despite surviving the maenad attack, he dies in a fire due to his heavy drinking habit.
Physical Appearance
Edit
Eggs is African-American with dark skin, dark hair and brown eyes.
Relationships
Edit
Tara Thornton
Edit
Tara and Eggs were together, but then broke off the engagement.
Sookie Stackhouse
Edit
During the orgy, he tries to undo Sookie's shorts, luckily Eric protects her.
HBO portrayal
Edit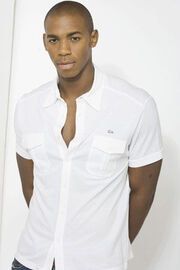 On the HBO original series True Blood, Eggs is portrayed by actor Mehcad Brooks. Eggs and Tara still enjoyed a romantic relationship, but the circumstances are different then in the book series, including that Eggs apparently is not a Bon Temps native, as well as his death circumstances.
Appearances
Edit
Sookie Stackhouse Novels appearances
"Dead Until Dark"
Living Dead in Dallas
"Club Dead"
"Dead to the World"
Dead as a Doornail
"Definitely Dead"
"All Together Dead"
"From Dead to Worse"
"Dead and Gone"
"Dead in the Family"
"Dead Reckoning"
"Deadlocked"
"Dead Ever After"
Community content is available under
CC-BY-SA
unless otherwise noted.