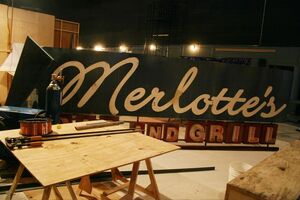 Merlotte's Bar and Grill, generally referred to simply as Merlotte's, is a popular bar and grill located in Bon Temps, Louisiana, and owned by the shapeshifter Sam Merlotte.
This bar is where Sookie Stackhouse works and spends most of her time. Many employees blow in and out of Merlotte's including Arlene Fowler, Holly Cleary, Danielle Gray, Lafayette Reynolds, Terry Bellefleur, Sweetie Des Arts, Charles Twinning, Tanya Grissom, and Charlsie Tooten.
Merlotte's is known as a "family bar".
Community content is available under
CC-BY-SA
unless otherwise noted.